Here you'll find information about me, the Asperger's Mystery series from Midnight Ink, the Haunted Guesthouse Mystery series and Mysterious Detective series from Crooked Lane Books, and the Agent to the Paws series from St. Martin's Press! You can follow me on Twitter here, or be my friend on Facebook. And if you're interested a funny, twisty, exciting mystery novel, you're in the right place! Look around; spend some time.
Get in touch with me at ejcopperman (at) gmail (dot) com and ask questions or say hello. And please follow my blog, Sliced Bread. Thanks for visiting!
News: King's River Magazine had its reviewers name best books of 2017 and one of them was Dog Dish of Doom!
Library Journal also listed Written Off as one of the 5 Best Mysteries of 2016!
Available Now:
Alison's not about to get involved when excavators working behind her house find a buried 1977 Lincoln Continental. Even when they discover the skeleton of a man behind the wheel. But when Paul the deceased detective and Alison's husband Josh decide to look into the case, it's only a matter of time before the Jersey Shore's most reluctant sleuth has to step in!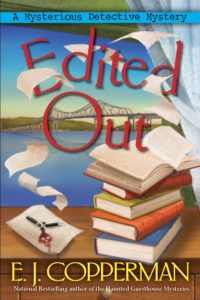 Rachel Goldman and Duffy Madison return as Rachel tries to avoid seeing the living manifestation of her fictional character, while Duffy wants her to drive a couple of hours away with him to prove a missing man from Poughkeepsie, New York isn't the man who became Duffy Madison. Confused? So is everyone else, especially when it turns out two people who were thought missing were actually murdered…
The Question of the Dead Mistress: The fifth book in the Asperger's Mystery Series!
Samuel Hoenig's new client want him to answer the question, "Is my husband having an affair with his dead college girlfriend?" Samuel says, "No," because it's impossible to have an affair with a dead person. But when the husband shows up murdered and Samuel's associate Ms. Washburn is on the scene, it becomes obvious this is a job for both of them.
Kay Powell is a theatrical agent whose clients are animals. Right now she's repping a parrot named Barney who's working a TV series. The show's star is shot with Barney staying in his trailer, and the police believe that Barney can provide information on the crime. Kay believes otherwise, but Barney's not making it easy…