Here you'll find information about me, the Asperger's Mystery series from Midnight Ink, the Haunted Guesthouse Mystery series and Mysterious Detective series from Crooked Lane Books, and the Agent to the Paws series from St. Martin's Press! You can follow me on Twitter here, or be my friend on Facebook. And if you're interested a funny, twisty, exciting mystery novel, you're in the right place! Look around; spend some time.
Get in touch with me at ejcopperman (at) gmail (dot) com and ask questions or say hello. And please follow my blog, Sliced Bread. Thanks for visiting! (I often post on Tuesdays.)
News: King's River Magazine had its reviewers name best books of 2017 and one of them was Dog Dish of Doom!
Library Journal also listed Written Off as one of the 5 Best Mysteries of 2016!
Available Now:
Alison Kerby is still wondering where her ghostly friend Paul Harrison might be when his brother Richard shows up at her house–freshly murdered and in ghost form. But Richard isn't trying to find out who killed him: He was a lawyer working a homicide case and believes he died because he was getting too close to the truth. He wants his brother the deceased detective to help him solve the case, but there's the whole matter of finding Paul…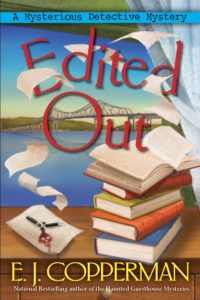 Rachel Goldman and Duffy Madison return as Rachel tries to avoid seeing the living manifestation of her fictional character, while Duffy wants her to drive a couple of hours away with him to prove a missing man from Poughkeepsie, New York isn't the man who became Duffy Madison. Confused? So is everyone else, especially when it turns out two people who were thought missing were actually murdered…
The Question of the Absentee Father: The fourth book in the Asperger's Mystery Series!
Samuel Hoenig doesn't have strong feelings about his estranged father. After all, you can't miss what you never had. But when Samuel's mother receives an enigmatic letter and asks him where his father lives, Samuel is duty bound to provide an answer.
Kay Powell is a theatrical agent whose clients are animals. No, they're not Hollywood stars; they're actually non-human animals. So when she tries to get Bruno, a big fuzzy dog, a job in the latest Broadway revival of Annie, all looks good—until Bruno's owner is stabbed in the back and falls face down into Bruno's water dish.