Here you'll find information about me, the Asperger's Mystery series from Midnight Ink, the Haunted Guesthouse Mystery series from Berkley Prime Crime, the Mysterious Detective series from Crooked Lane Books, and the Agent to the Paws series from St. Martin's Press! You can follow me on Twitter here, or be my friend on Facebook. And if you're interested a funny, twisty, exciting mystery novel, you're in the right place! Look around; spend some time.
Get in touch with me at ejcopperman (at) gmail (dot) com and ask questions or say hello. And please follow my blog, Sliced Bread. Thanks for visiting! (I also post on Mondays under an assumed name at Hey, There's A Dead Guy in the Living Room.)
News: King's River Magazine had its reviewers name best books of 2016 and TWO of my titles came up! Take a look!
Library Journal also listed Written Off as one of the 5 Best Mysteries of 2016!
Available Now:

Rachel Goldman and Duffy Madison return as Rachel tries to avoid seeing the living manifestation of her fictional character, while Duffy wants her to drive a couple of hours away with him to prove a missing man from Poughkeepsie, New York isn't the man who became Duffy Madison. Confused? So is everyone else, especially when it turns out two people who were thought missing were actually murdered…
The Question of the Felonious Friend: The third book in the Asperger's Mystery Series!
It's been one year, two weeks, and three days since Samuel Hoenig opened the doors of Questions Answered. But when Tyler Clayton, a young man who also has Asperger's, asks if a store clerk is truly his friend, Samuel, for the first time, can't bear to give an objective answer. It's a dicey situation that only gets worse when one of the key players ends up dead. Resolving to do the right thing, Samuel, with help from his associate Ms. Washburn, wades into the murky waters of friendship, and the answer he finds may be a revelation to himself most of all.

Where Alison Kerby's ex-husband goes, trouble follows. This time, unfortunately, he's brought that trouble right to her doorstep. On the run from a business deal gone bad, Steven, aka "the Swine," owes some scary people a staggering sum of money. No need to panic, though. He has a plan: sell Alison's Jersey Shore guesthouse to pay them off.
Before Alison has a chance to read Steven the Riot Act, he disappears—after a mysterious man trailing him ends up full of bullet holes. Now the police are next to darken her doorway. For all his faults, Steven is still the father of Alison's daughter, so with the help of ghosts Maxie and Paul, Alison sets out to find her ex and clear him of the murder. But if the bad guys get to him first, he may not have a ghost of a chance…
Coming Soon!
Kay Powell is a theatrical agent whose clients are animals. No, they're not Hollywood stars; they're actually non-human animals. So when she tries to get Bruno, a big fuzzy dog, a job in the latest Broadway revival of Annie, all looks good—until Bruno's owner is stabbed in the back and falls face down into Bruno's water dish. (Coming August 15!)
The Question of the Absentee Father: The fourth Asperger's Mystery by E.J. Copperman/Jeff Cohen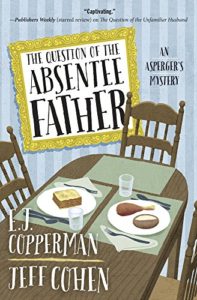 Since Samuel Hoenig opened Questions Answered, there have been questions he has chosen not to research because they didn't interest him. But this one is a question he simply doesn't want to answer: His mother asks Samuel where his father, who left the family when Samuel was four, is living now. The ensuing investigation leads to a number of things Samuel prefers not to do: Traveling on an airplane, driving a car, confronting his family's past and examining his feelings for Ms. Washburn, his trusted associate. So it's going to be an interesting week. (Coming October 8!)