Here you'll find information about me, the Fran and Ken Stein series,  the Jersey Girl legal mysteries, the Asperger's Mystery series, the Haunted Guesthouse series, the Mysterious Detective series, and the Agent to the Paws series! You can follow me on Twitter here, or be my friend on Facebook. And if you're interested a funny, twisty, exciting mystery novel, you're in the right place! Look around; spend some time.
Get in touch with me at ejcopperman (at) gmail (dot) com and ask questions or say hello. And please follow my blog, Sliced Bread. Thanks for visiting!
Haunted Guesthouse News!
No, there isn't going to be a new Haunted Guesthouse novel.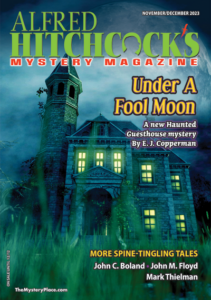 BUT… if you're missing the characters back in Harbor Haven, you'll be happy to know that they're back! (Briefly.) The November/December (2023) edition of Alfred Hitchcock's Mystery Magazine includes (as its cover story) Under a Fool Moon: A Haunted Guesthouse Mystery. And yes, the whole gang is back! And there's a werewolf (maybe)!
They're Here!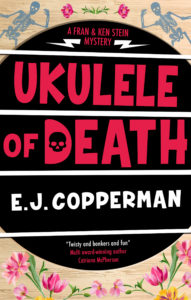 Ukulele of Death is the first mystery featuring Fran and Ken Stein (we'll give you a second on that one), a sister-and-brother team who specialize in finding the birth parents of adopted people. But they have a secret, and it's one that might place them in a great deal of danger. This one's weirder than usual and not quite as "cozy," but fans of the Haunted Guesthouse might really enjoy it! (And so should everyone else!)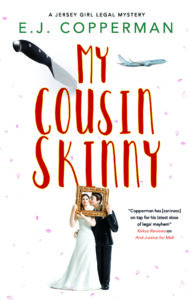 My Cousin Skinny is the fifth Jersey Girl Legal Mystery, and finds Sandy Moss heading home to New Jersey with her TV-star boyfriend Patrick McNabb in tow. They think they're attending the wedding of Sandy's cousin Stephanie (who she calls "Skinny"), but there's a lot more going on and Sandy will soon be defending Skinny against a murder charge.
Kirkus Reviews, on its Instagram page, listed current "must-read" books in a number of genres. Want to know what qualified in the mystery/crime category?
E.J. Guest Blogs!
You can find E.J. blogging or being interviewed on a number of sites to get the word out about Ukulele of Death! Check out posts at:
Killer Crafts and Crafty Killers
Now Available!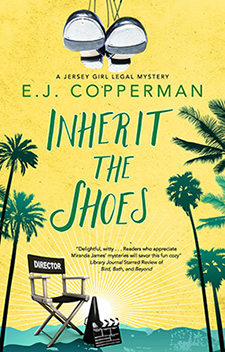 Inherit the Shoes, the first in a new series about New Jersey prosecutor Sandy Moss, who moves to Los Angeles so she can stop practicing criminal law (but winds up defending a TV actor accused of killing his estranged wife with a bow and arrow) is now available in the UK and North America! Look for Sandy to start her journey and hopefully take you along with her. It's a different world on the West Coast, but she's a Jersey girl until the end!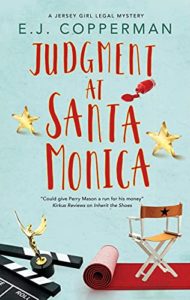 Judgment at Santa Monica, the second Jersey Girl Legal Mystery, finds Sandy trying to forget all about Patrick McNabb – until he shows up in the courtroom of a case she's trying with an attractive friend in tow, asking for Sandy's help. Once again a divorce case becomes a murder trial but this time the weapon of choice is an acting award and Patrick's friend Cynthia Sutton is looking awfully guilty – even to Sandy.
Witness For the Persecution,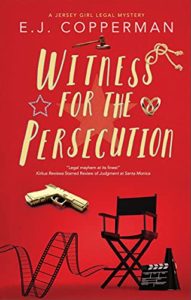 the third Jersey Girl Legal Mystery, starts with Sandy being assigned a case she'd rather leave alone: An egotistical movie director (because is there another kind?) has been accused of murder after a stunt man is killed on the set of his action epic. Sandy just doesn't like the guy very much but at least this time Patrick McNabb isn't involved. Right? Patrick?
(Also: Witness For the Persecution was selected as a Book of the Week by Publishers Weekly, Nov. 21, 2022)

In And Justice For Mall (Now available!) Sandy is faced with a client who won't let her off the hook: 11-year-old Riley Schoenberg walks brazenly into Sandy's office and tells her she wants Sandy to mount an appeal for her father, who is in prison after being convicted of murdering Riley's mother. And just to make it interesting, he's confessed to the crime. Meanwhile, Sandy and Patrick goes house hunting. (Go to reviews for more!)
Also Available:

Alison's not about to get involved when excavators working behind her house find a buried 1977 Lincoln Continental. Even when they discover the skeleton of a man behind the wheel. But when Paul the deceased detective and Alison's husband Josh decide to look into the case, it's only a matter of time before the Jersey Shore's most reluctant sleuth has to step in! (Also available an audiobook!)
Rachel Goldman and Duffy Madison return as Rachel tries to avoid seeing the living manifestation of her fictional character, while Duffy wants her to drive a couple of hours away with him to prove a missing man from Poughkeepsie, New York isn't the man who became Duffy Madison. Confused? So is everyone else, especially when it turns out two people who were thought missing were actually murdered…

The Question of the Dead Mistress: The fifth book in the Asperger's Mystery Series!
Samuel Hoenig's new client want him to answer the question, "Is my husband having an affair with his dead college girlfriend?" Samuel says, "No," because it's impossible to have an affair with a dead person. But when the husband shows up murdered and Samuel's associate Ms. Washburn is on the scene, it becomes obvious this is a job for both of them. (Look for "The Question of the Befuddled Judge," a Samuel Hoenig story, in Alfred Hitchcock's Mystery Magazine!) Also: here!
Kay Powell is a theatrical agent whose clients are animals. Right now she's repping a parrot named Barney who's working a TV series. The show's star is shot with Barney staying in his trailer, and the police believe that Barney can provide information on the crime. Kay believes otherwise, but Barney's not making it easy…