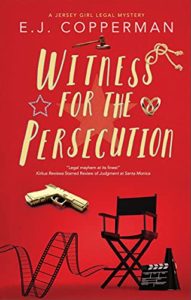 In WITNESS FOR THE PERSECUTION, Sandy Moss is acclimating to Los Angeles to the point that she's actually been to a few red carpet premieres as Patrick McNabb's date. But now an action movie director has been charged with killing a stunt man by rigging the stunt, and there's something about all this that Patrick hasn't told her…  (Coming April 5 in the US!) See reviews here!
JUDGMENT AT SANTA MONICA, the hilarious follow-up to INHERIT THE SHOES, finds Sandy Moss trying to avoid Patrick McNabb and his movie star friend Cynthia Sutton. They want Sandy to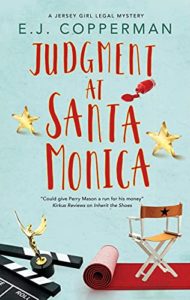 handle Cynthia's divorce, but before anyone can say, "uh-oh…" Cynthia's mother-in-law has been stabbed with a TV acting trophy and just guess who's going on trial for murder. And who her attorney is going to be.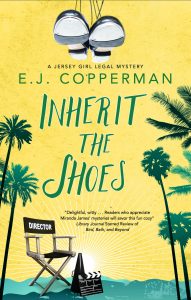 INHERIT THE SHOES, the first Sandy Moss Jersey Girl Mystery novel, is now available! Follow Sandy from Middlesex County, NJ to Los Angeles, CA and into her new career… which definitely won't go the way she intends.
Another hilarious mystery series from E.J. Copperman (Haunted Guesthouse, Agent to the Paws) begins with INHERIT THE SHOES and the word of mouth is already terrific! (See the REVIEWS page for more!)
You can find INHERIT THE SHOES here:
Amazon
Barnes & Noble
Kindle US
Apple Books
Kobo
Google Play
Independent Bookstores