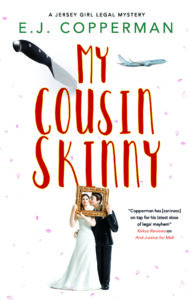 Sandy reluctantly returns to New Jersey in MY COUSIN SKINNY and brings Patrick and Angie with her, to act as backup at her cousin Stephanie's wedding. But at the rehearsal dinner things take a turn: Stephanie emerges from the kitchen drenched in blood and carrying a kitchen knife. And there's the body of the best man on a prep table. Guess who Stephanie wants to represent her against charges of murder?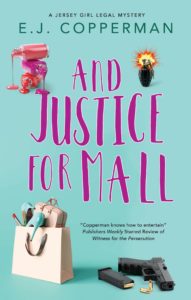 AND JUSTICE FOR MALL finds Sandy taking on a client who bursts into her office and refuses to leave. Riley Schoenberg is all of eleven years old, and has issues: Her father is in jail for murdering her mother. Riley says he didn't do it and wants Sandy to get him out of prison but there's a catch: Riley's dad confessed.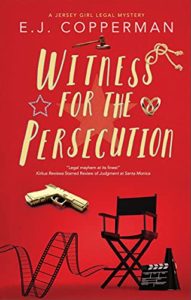 In WITNESS FOR THE PERSECUTION, Sandy Moss is acclimating to Los Angeles to the point that she's actually been to a few red carpet premieres as Patrick McNabb's date. But now an action movie director has been charged with killing a stunt man by rigging the stunt, and there's something about all this that Patrick hasn't told her…  (Coming April 5 in the US!) See reviews here!
JUDGMENT AT SANTA MONICA, the hilarious follow-up to INHERIT THE SHOES, finds Sandy Moss trying to avoid Patrick McNabb and his movie star friend Cynthia Sutton. They want Sandy to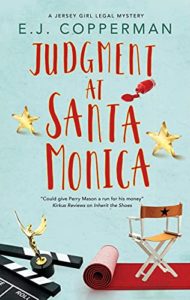 handle Cynthia's divorce, but before anyone can say, "uh-oh…" Cynthia's mother-in-law has been stabbed with a TV acting trophy and just guess who's going on trial for murder. And who her attorney is going to be.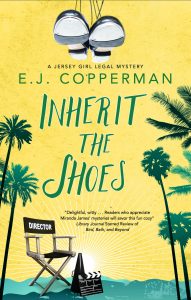 INHERIT THE SHOES, the first Sandy Moss Jersey Girl Mystery novel, is now available! Follow Sandy from Middlesex County, NJ to Los Angeles, CA and into her new career… which definitely won't go the way she intends.
Another hilarious mystery series from E.J. Copperman (Haunted Guesthouse, Agent to the Paws) begins with INHERIT THE SHOES and the word of mouth is already terrific! (See the REVIEWS page for more!)