Bones Behind the Wheel (Crooked Lane Books)
Beach excavation behind Alison's house digs up something unexpected: A vintage Lincoln Continental. With a skeleton behind the wheel. When police investigations determine that the driver was murdered, Alison does her level best to avoid doing any snooping on her own. But her new husband, her teenage (barely) daughter and her resident ghosts all want to look into the matter. It's only a matter of time before Alison will start some investigating of her own. And that can lead to danger, as the cold case starts to heat up. Someone in the present day doesn't want her to find out what happened. And then there's the possible involvement of pirates…
Available now from all the usual web sites and your favorite bookshop!
The Hostess With the Ghostess (Crooked Lane Books)
When a new ghost comes to Alison Kerby's guesthouse she doesn't realize he's new right away: Richard Harrison was an attorney convinced the defendant in his murder case was innocent. But now someone killed Richard, maybe because he was getting too close to the truth. Richard's come looking for his brother, Alison's resident deceased detective Paul. But in order to solve the two murders it's going to be necessary to locate Paul first…
Order it from Amazon, Barnes & Noble, Books-a-Million, IndieBound
Spouse on Haunted Hill (Berkley, 2016)
Where Alison Kerby's ex-husband goes, trouble follows. This time, unfortunately, he's brought that trouble right to her doorstep. On the run from a business deal gone bad, Steven, aka "the Swine," owes some scary people a staggering sum of money. No need to panic, though. He has a plan: sell Alison's Jersey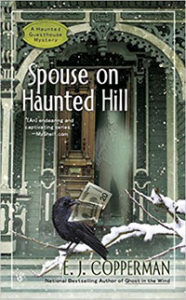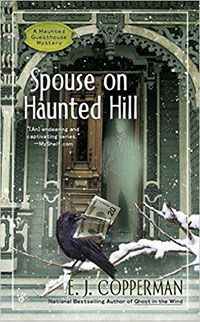 Shore guesthouse to pay them off.
Before Alison has a chance to read Steven the riot act, he disappears—after a mysterious man trailing him ends up full of bullet holes. Now the police are next to darken her doorway. For all his faults, Steven is still the father of Alison's daughter, so with the help of ghosts Maxie and Paul, Alison sets out to find her ex and clear him of the murder. But if the bad guys get to him first, he may not have a ghost of a chance…
Buy it from Amazon | Barnes & Noble | Books-a-Million | IndieBound
Ghost in the Wind (Berkley, 2015)
Guesthouse owner, single mother, and reluctant ghost whisperer Alison Kerby is about to sit down to movie night with her family and friends when she's struck speechless. Floating before her is the ghost of her musical idol, 1960s English rock star Vance McTiernan. He's in desperate need of help from Alison and her resident ghostly gumshoe, Paul Harrison.
Reports claim that four months ago, Vance's daughter died from a drug overdose. Vance, however, thinks she was murdered. While Alison agrees to help, Paul is suspicious of Vance's motives. But after the body of the alleged killer is found in the movie room, Alison and Paul must act quickly before someone else finds a stairway to heaven…
Buy it from Amazon | Barnes & Noble | Books-a-Million | IndieBound
Also available as an audiobook from Audible.com | iTunes
Inspector Specter (Berkley, 2014)
Detective Lieutenant Anita McElone is one of Harbor Haven's finest. She's also a hard-boiled ghost skeptic. So when she shows up on the doorstep of Alison Kerby's Haunted Guesthouse to ask for supernatural help in solving the murder of her former partner, it's hard to tell which woman is more flabbergasted. But McElone is dead serious, so Alison promises to help in any way she can—even asking her resident ghosts, Paul and Maxie, for help with the case.
As Paul's spirit source reveals some troubling information about the deceased detective, Alison wrestles with what to tell McElone. First, though, she has to find her…because the lieutenant has suddenly disappeared.
"E.J. keeps getting better and better with every book. I particularly enjoy the sprinkle of humor throughout, which keeps the mystery enjoyable."
—Night Owl Reviews
Buy it from Amazon | Barnes & Noble | Books-a-Million | IndieBound
Also available as an audiobook from Audible.com | iTunes
The Thrill of the Haunt (Berkley, 2013)
As Alison's reputation as "the ghost lady" grows, so does her business—and not always in a way she'd like. Tourists may be flocking to her guesthouse for a chance to glimpse her resident spirits, but her special abilities are also bringing unwanted private investigation cases to her door. And she has no choice but to take a case when the local homeless man is found murdered under mysterious circumstances, just hours after asking for help in exorcising a specter.
If that weren't enough to deal with, Alison's other PI case soon turns fatal, as the mistress she was spying on for a jealous wife turns up dead as well. The cases seem like they couldn't possibly be linked, but with a mountain of clues, motives and suspects—both living and dead—Alison will have to think fast before someone else checks out for good…
"Charms readers… with fast and witty dialogue and characters who can be as exasperating as they are endearing… The toll Hurricane Sandy placed upon the Shore is always in the background as the plot takes so many clever twists and turns that the reader will never see the ending coming. When combined with the author's trademark humor and keen writing, readers will be wishing that the novel and the series never end."
—Kings River Life Magazine
Buy it from Amazon | Barnes & Noble | Books-a-Million | IndieBound
Also available as an audiobook from Audible.com | iTunes
An Open Spook (Penguin Novella, 2013)
Haunted guesthouse owner Alison Kerby may have only recently discovered her ability to communicate with ghosts, but for her mother Loretta, it's been a lifelong gift. As Alison prepares her Jersey Shore guesthouse for what promises to be a huge storm, Loretta helps out by tackling a different issue when the winds blow in an unexpected visitor: the ghost of Sgt. Robert Elliot. His request? Help him find the POW bracelet from the Vietnam War that bears his name. But no sooner does Elliot make his appeal than he suddenly disappears, cutting off contact, and leaving Loretta to wonder…why here? Why now? And why the vanishing act?
The answers begin to materialize when Alison's lone remaining guest shows up unwittingly holding a clue to the case—on his wrist. A coincidence? Hardly. And Loretta has good reason to believe that the sergeant's spirit has a secret he's yet to share. Something he's been holding on to for more than forty years. Something he's dying to put to rest.
Buy it from Amazon | Barnes & Noble | Kobo
Also available as an audiobook from Audible.com | iTunes
Chance of a Ghost (Berkley, 2013)
Even with a blizzard bearing down on New Jersey, Alison can count on at least two guests—Paul and Maxie, the stubborn ghosts who share her shore town inn. Then there's her widowed mother, who hasn't just been seeing ghosts, she's been secretly dating one: Alison's father. But when he stands her up three times in a row, something's wrong. Is he a lost soul…or a missing apparition?
Their only lead is an overdramatic spirit—stage name Lawrence Laurentz—who doesn't take direction well and won't talk until they find his killer. Alison will reluctantly play the part of PI, but when the clues take a sinister turn, the writing is on the wall: If Alison can't keep a level head, this will be her father's final act—and maybe her own.
"In Alison Kerby, we readers get a wise-cracking, foot-in-mouth would-be gumshoe. And one who has managed to crawl into that little space in my reader's heart and set up camp."
—Dark Phantom
Buy it from Amazon | Barnes & Noble | Books-a-Million | IndieBound
Also available as an audiobook from Audible.com | iTunes
Old Haunts (Berkley, 2012)
The ghosts haunting Alison Kerby's Jersey Shore guesthouse are sad. Maxie wants to know who murdered her ex-husband, and Paul pines for his still-living almost-fiancee. The only one who isn't missing her ex is Alison—because The Swine just arrived on her doorstep…
"I knew Old Haunts was gold before I finished reading the first page… Not only is Alison's dry sense of humor and hilarious commentary on other characters enough to give this book ten stars, but even the ghosts and their former lives are written to perfection."
—Fresh Fiction
Buy it from Amazon | Barnes & Noble | Books-a-Million | IndieBound
Also available as an audiobook from Audible.com | iTunes
An Uninvited Ghost (Berkley, 2011)
Alison and her resident gumshoe ghost are on their next case when the deceased Scott MacFarlane floats in worried that he accidentally killed a prominent local woman. Turns out she's still alive… that is, of course, until she's murdered-in Alison's house. Now, between the demands of her guests and the arrival of a reality television crew, Alison must find the killer before she sees reality from the other side.
"An Uninvited Ghost is a triumph… The humor is delightful… If you like ghost stories mixed with your mystery, try this Jersey Shore mystery… The killer made perfect sense, but I never saw it coming."
—Lesa's Book Critiques
Buy it from Amazon | Barnes & Noble | Books-a-Million | IndieBound
Also available as an audiobook from Audible.com | iTunes
Night of the Living Deed (Berkley, 2010)
Newly divorced Alison Kerby wants a second chance for herself and her nine-year-old daughter. She's returned to her hometown on the Jersey Shore to transform a Victorian fixer-upper into a charming—and profitable—guest house. One small problem: the house is haunted, and the two ghosts insist Alison must find out who killed them.
"Fans of Charlaine Harris and Sarah Graves will relish this original, laugh-laden paranormal mystery featuring reluctant ghost whisperer Alison Kerby, a Topper for the 21st century. Meticulously crafted,Night of the Living Deed is a sparkling first entry in a promising new series."
—Julia Spencer-Fleming, Anthony and Agatha Award winning author
Buy it from Amazon | Barnes & Noble | Books-a-Million | IndieBound
Also available as an audiobook from Audible.com | iTunes